Bloggers are some of the most in demand workers today. With the internet as a top source of information today, there's a great need for writers who are able to write articles, blog posts, tutorials and reviews on a wide variety of topic.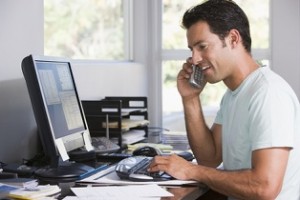 Some blogging positions are in an office setting but for people who want to avoid dressing up each morning and commuting or driving to work, a home-based set up is the best option. The freelance bloggers are often the ones who enjoy this kind of work setup. They can work at home or wherever they want at their own time and for any company or person they want.
Income from this job can also be limitless. As one can work for various people and companies at the same time or set up his own company, a blogger or web content writer can earn as much income as he or she wants per month. Data from the Bureau of Labor Statistics revealed that freelance content producers earned from $32,140 to $166,400 per year as of 2010. This is equivalent to an hourly rate of $15.45 to $80.
But if you think that being in a home-based position frees you from paying taxes, that is not totally true. Even if you don't have a permanent employer and work on your own or you run your own business, you will still have to pay the appropriate taxes to the IRS normally on a quarterly basis.

Basically, the primary taxes you will have to file depends on the type of business you have. The rates are different for sole proprietorship, limited liability company (LLC) and for an S corporation.
The so-called self-employment tax refers to the amount of tax one pays for Medicare and Social Security. But instead of paying only half which is the case when you're employed, you need to pay the full tax rate as a business owner. The good news is that you can deduct the total amount on your personal taxes.
You should also know that as a home-based business owner, you can actually deduct your purchases from your taxable income. These include office supplies, furniture and even a car as long as they're used in running your business.
If you have a home office where you do business, you can avail of the home office deduction. You can deduct part of your rent or mortgage as well as your utility bills but this will be dependent on the ratio of your office space to the entire size of your home.
Photo via globallifebalance.com