Many people ignore the importance of providing a description for their blogs. They miss out on getting on the top search results and being found by people looking for relevant information because of this.
If you're serious about sharing your knowledge and expertise on the internet and getting more web traffic, it's time you take into account the so-called blog SEO strategy. This is about your blog being searched easily and getting a high ranking in search results.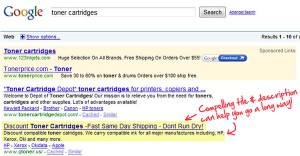 An ideal blog description uses keywords relevant to your passion or business. These are terms often used by people when searching for a specific topic or business. They may not necessarily be the popular keywords.
There's also a rule on the number of characters for a blog description. If you're using the WordPress platform, for instance, the SEO description box recommends at least 160 characters. This is because most search engines normally just show 160 characters in the search results.

For this purpose, your description
can include keywords of your blog. If you're posting articles, however, you may include the first sentences that are closely related to your title. Avoid using your article title because it won't give you benefits at all.
Keywords play a significant role in gaining a higher rank in search results. They should go hand in hand with your blog description.
A tip here is to use the post categories in your blog as keywords. Remember that they have to be relevant to your blog's main topic or your particular business industry. Don't even use your country or state as a keyword if you're not writing about it in your posts.
To determine the keywords your readers frequently use when searching for your blog or posts, you can use Google Analytics. This tool is most useful in giving you information about posts that rank high on search results as well as the keywords visitors often use.
So keep in mind that for every new post you create on your blog, always provide a relevant blog description to be indexed by search engines.
Photo via szsolutions.com