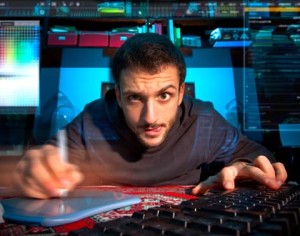 Not all users are adept to computer hacks that allow for a more convenient experience of using their desktops or laptops. However, they don't have to be expert to learn these tricks.
Below are some of the easiest hacks that even technologically-challenged people can do on their computers without asking for assistance.
Speed up Aero Peek function in Windows 8.1
One of the latest features in Windows 8.1 is the Aero Peek, which shows all your open windows by hovering your cursor on the lower right part of the screen. But whenever you do this, there is a one-second delay before Aero Peek kicks in.
If you want to get rid of the delay and just make the function appear faster, here's what you need to do:
Search for 'regedit' from the Start menu

Go to HKEY_CURRENT_USER > Software > Microsoft > Windows > CurrentVersion > Explorer and click "Advanced"

Click the right mouse button on the right panel, choose New > DWORD (32-bit) Value and name it "DesktopLivePreviewHoverTime."

Modify the created registry by right-clicking it. Select Decimal and type '1' as its Value Data.
Voila! The Aero Peek should appear immediately after hovering your mouse to that area on your screen. This makes web browsing much easier using this feature in your Windows 8.1.
For more hacks to speed up your Windows 8.1, click here.
Make Google Chrome run faster
Google Chrome is arguably the fastest web browser. But if you want to make Chrome run even faster, here's what you should do:
On the address bar, enter "chrome://flags/" (without the quotation marks). You will gain access to experimental features that are not privy to users.

Find "Maximum tiles for interest area." By increasing the tiles, you get to increase the RAM that Chrome uses when you browse the internet.

Set tiles from Default to 512, the maximum.
For more speed hacks for your Google Chrome, click here.
Save all your files on the cloud
It's default for computer users to save their files in their local drives. But given the viruses, malwares, or even natural disasters that can damage your PC and wipe out all your files, it's best to store your files that viruses can't touch.
This can also happen due to negligence by another person or manufacturer liability, which got your important files destroyed. If this is the case, you can file a lawsuit to compensate for the damages caused. Click here to learn how you can do this.
To avoid this situation, register for an account at free file hosting service sites like Dropbox or Google Drive. This way, when your local PC gets permanently damage, you have all your files intact on the cloud. Best of all, you can then access the files when you log in to your account using any computer.
Automatically greet your Facebook friends a happy birthday
If you're too busy to check out your Facebook account, you may miss out on personally greeting birthday celebrants online. If that's the case, then you can set up a trigger that automatically sends out greetings to your Facebook friends celebrating their birthdays.
IFTTT (IF This Then That) is a free web services allowing registered users to create "recipes" that triggers third-party sites to perform specific actions after setting it up.
In this link, your Facebook account will send greetings to your friends who's having their birthdays on that day based on your Google Calendar. This is a great way to not miss out on friend's birthdays, even if the message is automated.
Aside from birthday greetings, IFTTT has other recipes that will make your online life easier. Click here to see the most useful ones.