[dropcap]F[/dropcap]or several weeks already Gawker Media has been running a public Beta version of the upcoming new look and format. In a recent entry Gawker Media Guru founder Nick Denton announced the upcoming format and explained the change in approach. Denton said that Gawker was ditching the blog format and moving beyond. Moving to a format more known from MSM, AKA old-skool media.
Changing Formats
While Denton went for the juiciness and opted for a baity title, picked up by several writers, let us first make it clear that Gawker Media's redesign does NOT ditch blogging but the classic blog design format.
A blog (a blend of the term web log)[1] is a type of website or part of a website. Blogs are usually maintained by an individual with regular entries of commentary, descriptions of events, or other material such as graphics or video. Entries are commonly displayed in reverse-chronological order. Blog can also be used as a verb, meaning to maintain or add content to a blog.((Source: Wikipedia)) [Emphasis mine]
It is clear that Denton has ditched the term blog(ging) for a long time already, a sentiment also expressed in a Tweet during the heat of Gizmodo's 'Lost iPhone 4' scoop.


Gawker Media has, for quite some time, become 'genuine Media' already. It ditched the term blogging as a verb, as brilliantly worded by former Valleywag contributor Paul Boutin for Wired.com more than two years ago:
Writing a weblog today isn't the bright idea it was four years ago. The blogosphere, once a freshwater oasis of folksy self-expression and clever thought, has been flooded by a tsunami of paid bilge. Cut-rate journalists and underground marketing campaigns now drown out the authentic voices of amateur wordsmiths. It's almost impossible to get noticed, except by hecklers. And why bother? The time it takes to craft sharp, witty blog prose is better spent expressing yourself on Flickr, Facebook, or Twitter.
The time to retire the term 'blog' has come.
In other words, using the term blogging to describe professional citizen journalism is outdated and calling sites such as Gawker, TechCrunch, and other popular online publications a blog often is wrong and these sites, previously called blogs, often are journalistic publications. In an otherwise excellent recap, Wired.com's Dylan Tweney totally misses this point and, like others, completely digs into Denton's announcement article title: Gawker Gives Up on Blogging (And That's a Good Thing). The correct title would be: Gawker ditches the blog [design] format. A format also defined in Wikipedia's Blog entry, which I take the freedom to rehash here although already quoted and emphasised above:
… Entries are commonly displayed in reverse-chronological order…
The real question I have is: Why did it take Gawker that long to move to a format already popularised on smaller blogs and sites since mid 2007, when Darren Hoyt released his first Mimbo Theme ((A magazine theme for WordPress)) ?
Why Does The New Gawker Look Like BBC News?
When I first saw the new Gawker design, my first idea was that the design was aimed to push more traffic from the homepage, a strategy popularised by magazine-like themes and seen on sites such as AOL News, our own redesigned BBC News and the New York Times?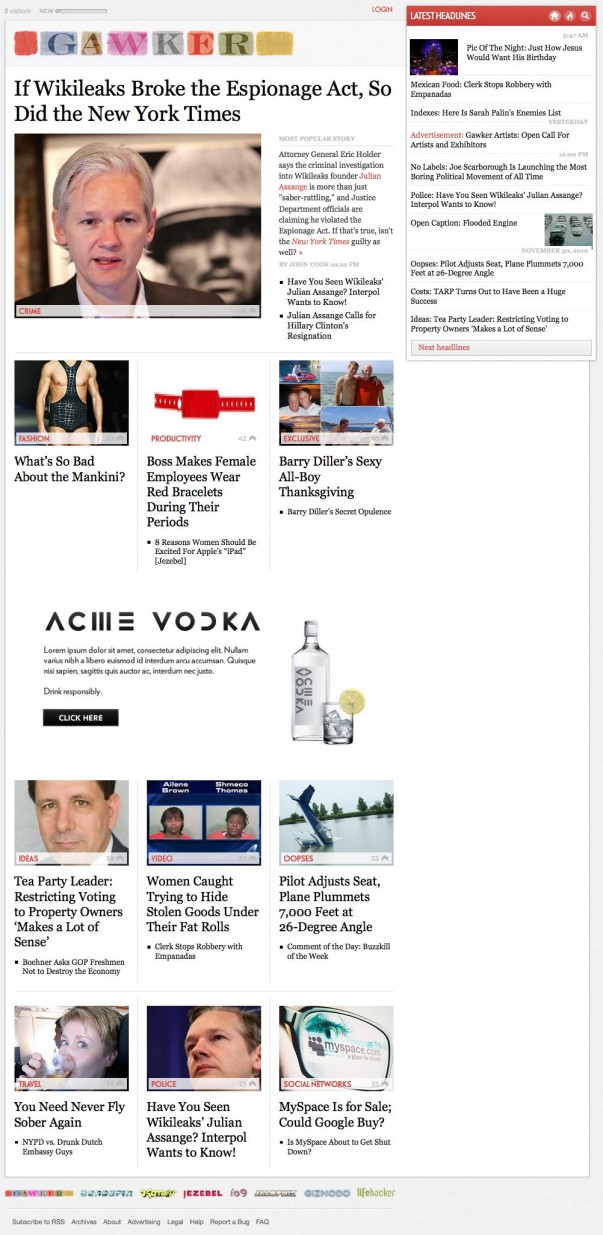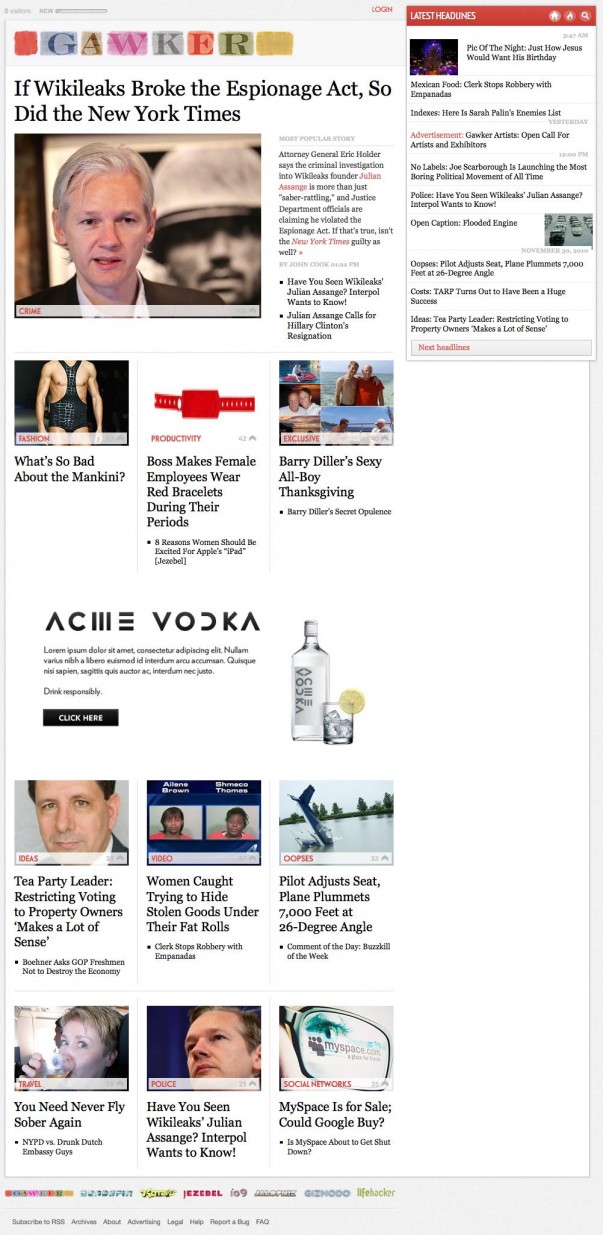 While the position of the latest headlines block might be called controversial by advertising gurus, and one could expect a possible return of the left-sided skyscraper, the Gawker 2011 redesign does not introduce anything new. It merely rehashes many popular aspects of news-based web design such as a lead story, section blocks dominated by story tiles, and – last but not the least – a huge amount of links, rather than content on the homepage. Just like the BBC News homepage. Even the prominent display of the latest headlines, a smart way to improve page views on an otherwise very scarce design, is an approach used by many online publications, albeit not always positioned as high in the right sidebar. Just like on almost every BBC News article ((In a section with also most commented and most shared stories separated by tabs)). So why is the 2011 Gawker redesign hyped and discussed?
The real question is 'When Will We Retire The Term Blogs'?
Denton's announcement carried the clear message that the British born former Fortune journalist does not want his sites to be called blogs anymore and that they true media/journalism are. The guru, and doom predictor, understands the internet better than most bloggers and has long ago mastered and taught his crew the art of media and writing for the web. The art of the title and 'co-owning' stories are not Gawker exclusives, or attention points, but old MSM strategies used by almost any major publication and outcries by bloggers who feel abused when their scoop is stolen but not accredited don't matter much. While accreditation might be nice and the ethical thing to do, in many a country accredited journalists do NOT have to cite their source and will never do so. Even one of the best Gizmodo entries ever, the SR-71 Blackbird piece, was compiled from several sources and initially did not have correct attribution. The real problem though is that many sites and bloggers are stuck in their love for blogs, awarding the term a special meaning rather than defining it as what it truly is:
A collection of entries published online [often] without editorial control before publication.
Can we retire the term blog and become writers again, columnists, for those who highly value the editorial content freedom?